Biking British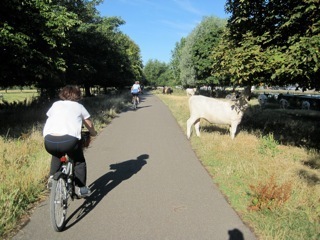 CAMBRIDGE, England - On this summer evening we stroll along the River Cam, enjoying the breeze. We have walked this path all week, most often in the lull between dinner and bed, and know to be on the alert for the sound of rolling tires and the b-r-r-ring of a bike bell. Which is why we leap as a cyclist roars up from behind.
"Out of the way!'' he bellows as he flies past, his booted feet pumping with the speed of a jackhammer.
So much for British civility. For a country that prides itself on etiquette, Britain seems to have granted cyclists absolution. They dodge, they weave, they yell. They pass on the right, they pass on the left. And God forbid that you get in their way. The drivers aren't much better. In the week we've been in Cambridge, where I teach a summer writing course at Gonville & Caius, one of the oldest of the legendary university's 31 colleges, we've seen one cyclist on St. Andrews Street tossed from his bike as the car to his right got too close and another challenge a lorry on Trumpington Street and lose. We've read about a TV celebrity chef purposely running a group of cyclists off the road.
We turn and head home, defeated. Avid cyclists on our own turf, my husband and I had envisioned cheerfully pedaling through verdant fields and thatched-roof villages. Cambridge, after all, is known as the Biking Capital of England, the compact city of flat terrain where one out of four residents bikes to work, and 1,900 cycles cross the Riverside Bridge every day. The city with an intricate web of bike paths and lanes. Yet with the fury of the boot-clad cyclist still ringing in the summer air, we question our courage. We question our skill. We question how anyone can safely navigate through this city of cars and crowds to get to the rolling countryside.